Laptop Socket Repair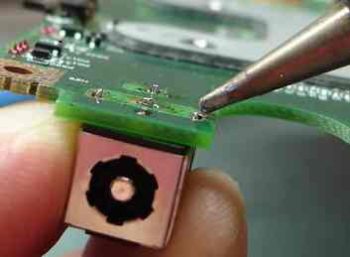 One of the most common repairs we carry out is the re-soldering of broken power sockets.
We can repair loose sockets, sockets with broken centre pins, even power sockets that have completely snapped off. We have most power sockets in stock and can normally complete the repair same-day.
If you have any of the following problems you could have a broken power socket:
The backlight on your screen is flickering whilst charging
Your laptop suddenly changes from battery to AC power
Your laptop battery will not charge
The DC jack is loose or broken and requires repair
Your laptop will not power up at all (a dead laptop)
Having to move about the power lead to get it to charge
This repair normally costs £48
If you are unsure if this is your problem, bring in your laptop and charger and we can test it for you for FREE.